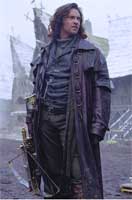 A wild, entertaining ride! As with previous Stephen Sommers films, this movie is not to be taken seriously at any time. This is pure summer-escapist fare. I thoroughly enjoyed this movie although I can understand where others would see this as a standard action fare.
The movie starts with a bang. Sommers loves playing around with the Univeral Pictures logo of the spinning planet Earth. In Van Helsing, he morphs the globe into a firery torch. The torch is held by a villager as part of a raiding party on Doctor Frankenstein's castle. Frankenstein has just put the finishing touches on creating "the monster". The townsfolk want to put a stop to this grave robber's experiments.
The scene is shot in black and white. Thanks to the Internet Movie Database (www.imdb.com), I found out that this opening sequence is filmed shot-by-shot as the original classic Frankenstein (1931). But there's a plot twist here. At the moment of triumph, Frankenstein is visited by his benefactor, none other than Count Dracula. Dracula has paid for Frankenstein's laboratory. He has an ulterior motive here. Dracula has secretly been breeding his offspring from a union with his three brides. His problem, he can't find a way to keep them alive. He hopes Frankenstein can can discover the secret of life. The townspeople are successful in breaking into the castle. Frankenstein is killed and the monster destroyed. At least the townsfolk hope.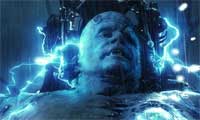 Into this conflict comes Van Helsing, fresh off of his attempt to capture Dr. Jekyll/Mr. Hyde. Van Helsing swings into action carrying enough high-tech weaponry to make James Bond jealous. Like I said, this is not to be taken seriously. Van Helsing can take a licking, and he keeps on ticking. Because of his tendancy to kill the demons he is sent out to capture, he is branded a murder and is wanted everywhere he goes.
Van Helsing is ordered by the Church to seek out and destroy Dracula. He is sent to the wilds of Transylvania. There he meets the last two descendants of the Valerious family. They have taken up the cause of their forefathers to destroy Dracula or perish. They haven't been very sucessful. After a rouch start, Van Helsing and Anna become allies.
But I haven't mentioned the fourth of the classic Universal monsters, The Wolf Man (Sommers already retold the story of the Mummy). The Valerious clan is successful in destroying the Wolf Man, but at a great cost. Anna's brother has been bitten during his encounter and now he finds he is transforming into a wolf during the full moon.
Hugh Jackman slips easily between his role as Wolverine in the X-Men movies to playing the demon hunter Van Helsing. Like Wolverine, Van Helsing is haunted by a past that he has no memory of. He was found by priests as a boy and trained to be the Church's secret vassal. His mission is to capture, mostly kill, demons that are an abomination to the Catholic Church.