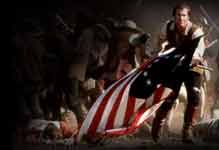 The Patriot
is an engaging film despite the obvious cliches and plot holes you can drive a Mack truck through. Mel Gibson (in a role with quite a few similarities to his William Wallace role in "Braveheart") s not up to the task at hand. He is OK as Benjamin Martin, a father with a past nightmare that he would rather forget, who gets dragged into the War of Independence with Britain. The rest of the stellar cast are the ones who make this film engaging.
Tensions in the family escalate when the eldest son Gabriel O;Heath Ledger) enlists in the South Carolina militia against the wishes of his father. Martin does not want his son to follow in his "heroic" footsteps. Martin's internal conflicts are sorely tested in the first cliched scene when Gabriel returns wounded from a battle. After Martin and his household care for wounded soldiers from both sides of the conflict, British Col. William Tavington (Jason Isaacs) storms onto the scene. He promptly thanks Martin for treating the British wounded, captures Gabriel as a spy and orders the Martin home burned.
Martin takes his two youngest sons and sets out to free Gabriel in a blood-letting slaughter similar to the battles from "Braveheart". Martin's savagery of the attack is what he is trying to hide from his family and townsfolk. Gabriel immediately rejoins the militia and Martin follows shortly thereafter.
One of the many strange sequences of the movie takes place when Tavington locks up an entire town of innocent people in the local church. He forces them to divulge the location of Martin's militia band and then promptly orders the church burned. You can see this coming as soon as the town is herded in the church. However, Tavington makes no attempt to attack the militia. Even stranger, the militia learns about the massacre from persons unknown. They suddenly ride on the scene. But Tavington doesn't even consider laying a trap for the militia when they come to town.
The other scene involves the old "kill him when you have the chance" movie gimmick. I won't explain more because this is also transparent as we know from early on that Martin will kill Tavington by the end of the movie. Director Roland Emmerich has the gall to actually repeat this gimmick during the rousing conclusion.
The battle sequences and special effects are top notch, especially the bouncing cannon balls. The supporting cast is really the reason I found this film to be so engaging which is needed for the more than 2 1/2 hour length.