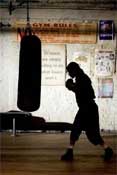 Despite the rumors and Oscar Hoopla, this is not one of Clint Eastwood's better movies. I found it interesting, but two things struck me as odd when it ended. First, I didn't care about any of the characters in this movie. Second, there is a major plot twist here that would never happen in real life. I absolutely hate it when things are technically wrong in the script.
Maggie Fitzgerald is an over-the-hill woman who wants to learn how to box. As she says, it is the only thing she has ever wanted to do. I wonder what took her so long to make up her mind. This is never explained. It must not have been important.
Maggie has learned to pick the best trainer and learn from him. She inexplicably chooses down-on-his-luck Frankie Dunn. "Dunn", as in 'washed up", I wonder. Dunn has a serious problem in life, but this is never explained fully, so we never really know what his problem is. He is afraid to take his fighters to the next level. Some event in his life must be keeping him back. Whether this involves his long-time friend Eddie "Scrap Iron" Dupris, we never learn. Maybe its Frankie's failed marriage or his inability to communicate with his estranged daughter. Maybe its the way he riles the local priest just to get a rise out of him. We never learn the answers. Maybe we are supposed to guess. Either way, there are too many questions unanswered.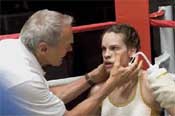 Dunn wants nothing to do with Maggie. But Dupris sees something special in Maggie, her determination or her pure talent. Dupris begins to give Maggie tips, pointers, to help her develop. In an attempt to get rid of Maggie, Dunn finally relents and begins to train Maggie. As her skills develop, Maggie longs to try an actual fight. Dunn, afraid to get near a ring, keeps stringing her along. I guess this is an attempt at suspense.
Again, Dunn relents and gives Maggie a chance to prove herself. Maggie knocks out her opponent in the first round. Several fights ensue, all with the same results. Dunn has a natural on his hands, but something keeps holding him back. Whatever that is, I don't know.
Maggie continues to win and Dunn has no choice but to keep pushing her. Maggie finally gets her shot at being a champion, in a title fight in Las Vegas in front of a huge crowd and possibly pay-per-view coverage.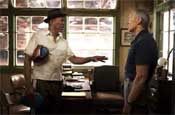 But things go wrong in a horrible plot-twist. If you don't want to know the twist, skip a few paragraphs. After being warned of unethical tactics several times, the champion lands a cheap-shot well after the end of round 2. Maggie's head lands on a stool and breaks her neck. The Million Dollar Baby is now paralyzed.
Now I explain my second reason for not liking this movie: Even after the referee has warned the champion about foul tactics, he inexplicably disappears at the end of round 2. Maggie is left unprotected. This would never happen in any boxing match. Read the newspapers and see how many boxer's careers are cut short by foul tactics. Hell, it happens every week! Yeah, right! Even more astounding, Maggie isn't given the victory on a disqualification. But the boxing federation makes amends by picking up the tab on Maggie's hospital bills. I guess there is some justice after all!
The last third of the movie is a morality play on euthanasia. Maggie wants to die but Dunn just can't bring himself to follow her wishes. This must have something to do with Dunn's past. But we are left in the dark as to his reasons for ending Maggie's suffering. After Maggie's demise, Dunn gives up the fight scene and flees to a small restaurant to eat pie. What a story!
The main story-telling gadget is a voice-over from Dupris. His ramblings are the most cliched bits of rhetoric I've ever heard. After about five minutes, this becomes annoying. In the end, we learn that Dupris is actually composing a letter to Dun's estranged daughter in a vain attempt the help explain her father. Oh boy! Well, I could care less! It isn't worth the time and energy to explain the goings on in the gym and the characters there, because I really don't care!