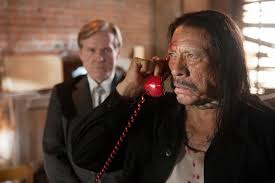 Machete Kills
is an uber-violent, hysterical action film. This is the second installment in a planned trilogy, well, that is if the pre-credit trailer is accurate. Forget about the story. The plot changes every five minutes! There is the tale of revenge, bounty hunting, clones, disguises, double crosses, triple crosses, surprise allies/enemies and world domination just to name a few.
Ex-Mexican police officer Machete (Danny Trejo) partners with U.S. Federal Agent Sartana (Jessica Alba) to stop an arms deal with a drug cartel. Before you can sneeze, all hell breaks loose. The deal is attacked by unknown mercenaries wearing ski masks. Everyone is killed except the indestructible Machete.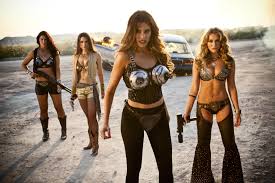 Before Machete can sneeze, he finds himself in the custody of racist Sheriff Doakes (William Sadler). After Doakes waxes poetic for several minutes, Machete is almost begging to be hanged just to take him out of his misery listening to Doakes. Before Doakes can sneeze or Machete dies from the hanging, the telephone rings. On the other end of the line is President Rathcock (Charlie Sheen) who wishes to speak to Machete.
The President has a nasty job that only someone in Machete's position can undertake. Machete is a man without a country. If he dies, the U.S. is not responsible. If Machete succees, the President offers Machete citizenship papers. Machete's job is to find and kill a Mexican drug-cartel member turned revolutionary named Mendez (Demian Bichir). Mendez has a missile focused on Washington D.C. and the clock is ticking before he fires the missile.
Matters quickly become complicated once Machete locates Mendez in Mexico. Mendez kills the only person who can disarm the missile pointed at Washington. Even worse, the detonator is wired into Mendez' body. If Mendez dies, the missile will automatically launch. Machete barely escapes with Mendez as his prisoner. While trying to figure out his next move, Machete overhears a television news broadcast saying there is a bounty on Mendez, dead! Before a pin can drop, Machete and Mendez are hunted by every character appearing in the film.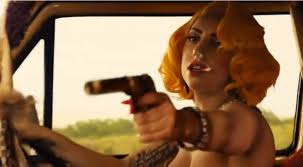 The wildest character to cross Machete's path is a bounty hunter known as El Camaleón (The Cameleon). El Camaleón is a master of disguises. When a couple of American tourists accidentally see his face, El Camaleón 1 (Walton Goggins) removes his mask and becomes El Camaleón 2 (Cuba Gooding Jr.). After commandeering a truck, El Camaleón 2 changes into La Camaleón (Lady Gaga). When that disguise outlives its usefullness, La Camaleón changes into El Camaleón 4 (Antonio Banderas). Laughter cannot be helped when Cuba Gooding Jr. takes of his disguise and becomes the scantily clad Lady Gaga. The transformation is so goofy it is hysterical.
Director Robert Rodriguez takes "over-the-top" to new heights. Everything in Machete Kills is over the top! There is a gunfight with massive explosions every five minutes. Every actor takes their parts seriously, yet extravagently. William Sadler is wonderful as straight-faced racist Sherrif Doakes. Charlie Sheen is wacky as President Rathborn. Amber Heard as Machete's contact and beauty pageant contestant Miss San Antonio is just plain hot and sexy. Sophia Vergara as Desdemona is the craziest henchman/henchwoman since Odd Job. Desdemona comes fully equipped with machine guns in her bra and a cannon in her panties. Who dreams up this stuff? Mel Gibson goes overboard as the crazy, psychotic adversary Voz, the man truly behind Machete's troubles. Gibson takes the craziness of his Detective Riggs character from the "Lethal Weapon" films and chews the scenery with a side order of relish.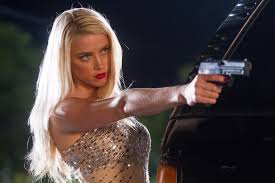 Of course the action is over the top also. Give Machete his choice of weapons, a repeated visual joke throught the film, and he always chooses a machete. The three-bladed machete is a hoot. There is a lot of carnage a machete can do to a human body, especially in capable hands. The violence may be too much for most audiences who don't find this style of violence amusing. Then again, what does that say for the rest of us who do?
Bringing the film back to Earth, repeatedly, is stone-faced, monotoned Machete played by Danny Trejo. Sure, the film was written exclusively for Trejo. But what other actor can pull real in the insanity and make the film believeable. Machete is a lot like Indiana Jones. When faced with a dangerous situation, Machete just makes up something to escape. This usually works. Machete is never left unscathed. But he is indestructible. Heck, Machete can flee from a hail of bullets without being nicked. His escape plans are improvised but quite funny when executed.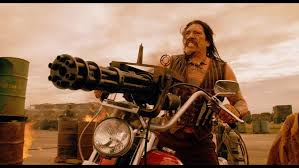 Trejo is the star. He carries the film. He steals every scene. He has immense stage presence. Yet, even with his stone face, monotonous voice, and stiff gestures, Trejo expresses emotions for Machete. Machete cares. He cares a lot. Machete goes out of his way to save people, well hot babes anyway, who find themselves in extreme danger. Of course, Machete's caring nature also leads to him falling into his own dangerous predicaments.
Many actors have portrayed James Bond. Many actors have portrayed Doctor Who. BUT, Danny Trejo IS Machete! "Machete Kills Again", hopefully followed by "Machete Kills Again and Again" cannot come soon enough.
Relax. Kick your shoes off. Have fun!