Hugo
by acclaimed filmmaker Martin Scorcese is a warm, beautiful family-oriented film. Wait! What? Who? Yes, that Martin Scorcese the master filmmaker behind great films like
The Departed, Gangs of New York, Goodfellas and Taxi Driver
.
Hugo
is another great film in a long line of great films from Scorcese. The film takes place during the 1930's when technological advancements like movies themselves were in their infancy.
Hugo starts in the middle of the story and uses flash backs to explain the present and where the film is heading. Hugo Cabret (Asa Butterfield) is a young boy who roams around the labyrinth that is the largest commuter train station in Paris, France. Hugo knows of all of the catwalks and passageways hidden from every other denizen of Paris. He lives in his own world and realistically speaking, no one even knows he lives there. Hugo, at such a young age, is actually the person in charge of maintaining/oiling/fixing all of the clocks in the station. As long as the clocks run accurately, no one has any reason to find out his secret.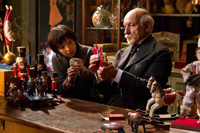 Hugo spies on all of the people coming and going through the station. After watching them for so long, he has a clear idea of the relationships and the blooming romances taking place. He is all too familiar with the reality of his predicament. Several times he sees young children, who should be in school taken into custody by the Station Officer (Cohen).
Hugo has another secret. Hidden in his room is an automaton, basically, a robotic man. The automaton was once a hopeless pile of scrap that Hugo's father (Law) rescued from the scrap heap. The father and son bond while renovating the automaton back to it's original working condition. Now that his father is gone, Hugo is obsessed with the notion that his father left a message for him. When the automaton is finally working, his father's message will be revealed.
Hugo actually has several secrets he keeps close to the vest. After his father's untimely death, Hugo was taken in by his uncle, who was the person in charge of maintaining the clocks in the station. Hugo's uncle is a drunk and Hugo took it upon himself to take over his uncle's job so that they have a roof over their heads, and more importantly, so that Hugo doesn't end up in an orphanage.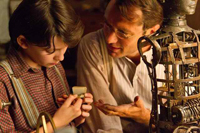 But Hugo's rather non-nondescript existence is about to switch onto a new set of tracks that takes him in a direction he couldn't possibly imagine. Hugo is a scrounger, always on the lookout for supplies to help reconstruct the automaton. Situated in a lonely booth in the station sits an old toy maker (Kingsley). He sits in his shop building toys that none of the passersby take notice of. In fact, very much like Hugo, the toy maker is an after-thought.
After Hugo is caught stealing a toy, the toy maker confiscates Hugo's other most prized possession, the manual/diary for the automaton his father left behind. The toy maker is enraged that anyone could possibly have this blasphemy in their possession. This evil book must be destroyed. Unfortunately for Hugo, the automaton and the manual are the only links between Hugo and his father. Hugo must get the manual back at all costs. Hugo secretly follows the toy maker home, meeting his god-daughter Lisette (Emily Mortimer) in the process. Hugo strikes up a friendship with her as she makes every attempt to keep the toy maker from destroying the manual.
As their friendship grows, Hugo takes Lisette into his full confidence, taking her deep into the station to show her the automaton. As far as Hugo can figure out, everything has been repaired. The machine should work. One piece remains a mystery. The automaton needs a special heart-shaped key to wind up the device. Amazingly, Lisette is wearing just such a key as a necklace. How could she have possibly come into possession of this key. The odds are close to zero. Except, as it turns out, it is no small surprise why Lisette has the key.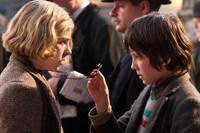 Hugo winds up the automaton, which immediately picks up a pen and rapidly begins drawing lines on a sheet of paper. Hugo heart beats faster. He is finally going to see the message his father left him. Oh, the disappointment in young Hugo. The automaton does not reveal a message from his father. It is just a stupid drawing of the face of The Man in the Moon with a crude capsule stuck in his eye! Anyone knowledgeable on film history will immediately recognize this iconic drawing. The picture is a movie frame from one of the greatest films in film history: Georges Melies A Trip to the Moon.
The old toy maker is none other than Georges Melies himself. Melies has fallen on hard times. His movies that once populated movie houses around the globe have fallen into an after-thought. His studio is gone. All that is left are memories as he sits in his booth building toys, that like his films, no one seems to want. You'd be bitter too!
Hugo is a wonderful movie. It celebrates films early pioneers, love, friendship, passion and the pure joy in showing the child in us all. In some ways, we are all Peter Pan. Hugo shows us that there is nothing wrong with being a child. We all embrace our dreams and fantasies inherent in toys, games, books and the movies.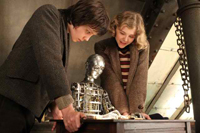 Making a movie where children are the main focus is a very tough prospect to pull off. Hugo is in good hands with Scorcese. The two leads, Asa Butterfield and Emily Mortimer, are perfect in their rolls as opposites attract. Hugo Cabret is basically a street urchin while Lisette comes from a large, well-to-do family. The two click and their friendship is genuine.
Hugo is a film about being passionate about what you do. Hugo Cabret has learned the passion of watchmaking from his father. Georges Melies has always been passionate about magic and the amazement magic brings to audiences of all ages.
Hugo Cabret has a mystery to solve. Questions need answering at all costs. As we all know, answers lead to still more questions. Hugo is determined to find the answers. Along the way, he learns many of life's lessons: Things don't always appear as they seem; Sometimes you don't get the answer you want; Life isn't fair; And, love really does conquer all.
Hugo Cabret goes much farther than simply bringing an automaton to life. He rescues a, old embittered man from his grave and breathes new life into him. Hugo helps the world to remember one of the greatest lessons of life: Do not forget the past. The past is where we have been. The giants of today stand upon the shoulders of those who have come before. Georges Melies saw the magic between the "frames" and showed the world what this new medium of movies can achieve. Without Melies vision, there would be no Dracula, King Kong, Citizen Kane, Them, Star Wars and every other film where screen writers and directors bring their passion to life. Excellent all around!
Note: Harry Potter fans will recognize three cast members from the series showcased here.