David Cronenberg's
A History of Violence
is a suspenseful thriller, but it is an uneven movie. Cronenberg is close to joining the ranks of Hitchcock and Welles but is not quite there yet. He does not maintain the suspense throughout and, I suspect, the production company got involved and had the final say. Too bad!
This is a small film (not a blockbuster) and a personal film. It is the personal side that is not developed to the detriment of the film. I don't mean this in the directorial aspect. Several conflicts are set in motion but are not fully developed.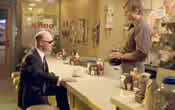 Tom Stall (Mortensen) is living the Mid-western dream. He is married to a successful, wonderful wife. He has a teenage son in high school and a young daughter. He is going through the same pains and joys that all parents live through. He owns one of the diners in this small town so everyone knows him. What can be better?
The movie's title gives away a bit too much information, however. Two thugs on the lam and taking every back road known to man to get back to the East coast arrive in Tom's restaurant looking for a quick influx of cash and a few other pleasures. Tom is very polite under the burgeoning hostage situation that quickly develops. When one of Tom's employees is attacked, the quiet man leaps into action, quickly dispatching the two thugs with surprising efficiency. Tom is suddenly cast in the role of nation-wide hero. He is not too thrilled about is new celebrity status.
But the title of the movie belies the secrets within. Basically, everyone has secrets they hide. Some people are gay, some hide corporate infidelities, others hide criminal pasts. Everyone hides something from the people they love! Tom falls squarely into this group and that is where the movie ultimately fails. Whereas Hitchcock would have made this a nail-biter from start to finish, there is something standard in Cronenberg's approach to an intriguing subject.
Shortly after the confrontation, mystery man Carl Fogarty arrives in Tom's diner. Fogarty is every bit as polite as Tom, but there is an underlying menace in his polite conversational tone. Fogerty constantly calls Tom "Joey". Tom takes it like a seasoned veteran. Most of the suspense in the movie is lost by Ed Harris' excellent performance as Fogarty. He is just way too positive in knowing Tom is on the lam as "Joey" from Philadelphia. More suspense would have developed if Fogarty was just a little unsure of his "suspicions".
As a subplot/counterpoint to Tom being bullied by Fogarty, Tom's son, Jack (Ashton Holmes) is being harrassed by the high school bully. Tom erupts in violence to protect his employee and his family. When Jack erupts to protect his honor, Tom is dismayed at his son's outburst. The balancing of one act of violence vs. the other is never fully played out. In fact, it is totally ignored.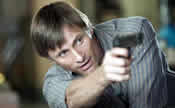 Tom Stall has "a history of violence". He has left that world behind. But his past finally catches up with him. What does he do? How does he react? However, Tom also has "a history of truth". This is where the movie ultimately fails. How to balance the truth of his new life against his history? After a final, violent resolution with his brother, Richie Cusack (William Hurt, played with the exact subtext as Ed Harris plays Fogarty), Tom returns home to pick up the shattered pieces of his life.
Unfortunately, what this movie is missing is the final resolution with Tom's family. It is a touching scene as mother and son understand father's history, but the young daughter hasn't a clue. All she knows is how her mother and brother respond to Dad. She makes the first move by setting his plate. Another great director would have added another 30 minutes to the movie to make the family resolution more painful/joyful.
With as much suspense A History of Violence envolks with the setup, the end result is a bit standard in it's approach. Cronenberg does not take the chance to make a truly great, suspense thriller. The movie is very good and well worth watching, but the end result is: it could have been a masterpiece!