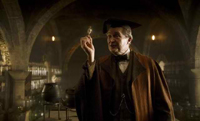 Lord Voldemort is on the move. Now that his return has been confirmed, he no longer needs to remain hidden. Attacks are rampant. Neither wizards nor muggles (non-magic folk) are safe. Kidnappings occur in broad daylight in the middle of Diagon Alley. Muggles are attacked on a suspension bridge in London. The world has become a dangerous place to live.
Harry Potter and the Half-Blood Prince reveals Lord Valdemort's grand plan. One person may hold the key.
Professor Albus Dumbledore is on a mission and he needs Harry's help. Dumbledore is piecing together the puzzle that is Lord Valdemort. Dumbledore enlists Harry to seduce retired Professor Horace Slughorn into returning to Hogwart's. Dumbledore believes Slughorn holds the key.
Slughorn "collects" students. Essentially, he recruits the most promising students into his private circle. He keeps in close contact with his proteges in order to gather information hidden from others and even influence events/decisions from behind the scenes. Harry's job is to get himself "collected" to get closer to Slughorn.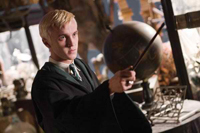 Harry gets some help in the form of an old, used potions book he finds in Slughorn's classroom. The text book contains hand-written notes on improving the methods to make potions. Using this as a guide, Harry quickly becomes Slughorn's best student. But there is a new mystery for Harry and his friends. Written in the margin is a cryptic note: "This book is the property of the Half-Blood Prince." There is no reference to this person anywhere in Hogwart's vast library.
The identity of the Half-Blood Prince is revealed at the end. Even though his/her identity makes perfect sense, some, myself included, will be completely surprised. This is one of the true joys of the Harry Potter series: the constant surprises. After six films, author J.K. Rowling and screenwriter Steve Kloves can still pull the wool over our eyes to the delight of all.
The story gets much darker as the Dark Lord has recruited Draco Malfoy (Felton), Harry's adversary at school, for a secret mission to be carried out during the school term. If Draco fails, the Dark Lord will murder him. Harry himself never had it this rough.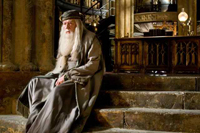 Harry Potter and the Half-Blood Prince revolves around the life of Tom Riddle aka Lord Voldemort. The time has come for Dumbledore to take Harry into his full confidence and reveal everything he knows about the Dark Lord. Using the Pensieve, Harry experiences Dumbledore's memories and learns of the early years of Tom Riddle, how Dumbledore found him in an orphanage and persuaded Riddle to come to Hogwart's where he will not be a freak. Riddle will learn about magic and how to control it. Is this a good idea? In hindsight, no. But Riddle (Hero Fiennes-Tiffin) is only 10 years old and deserves a chance. After all, Dumbledore is the patron wizard of lost causes.
But something even more sinister is brewing at Hogwart's. A hexed necklace leaves a student in a coma. A bottle of poisoned wine almost takes the life of Harry's best friend Ron Weasley (Grint). There is a murderer on the loose.
Each new chapter in Harry Potter's young life becomes darker and more dangerous. Fortunately, the movie is populated with wonderful comic bits. Fred and George Weasley are only present for one quick scene and the entire piece is non-stop hilarity. Listen closely to the voice of Delores Umbridge screaming, "I will have order!" Fred and George won't even give younger brother Ron a family discount. Youngest Weasley, Ginny, is not spared when the twins spy her with a bottle of love potion commenting that she doesn't need the potion.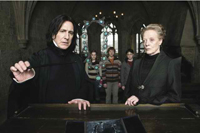 After Harry drinks some "Good Luck" potion, he heads off to see Hagrid, taking Professor Slughorn with him. They find Hagrid with the corpse of the giant spider Aragog (Chamber of Secrets). The scene is melancholic except for Harry who is in exceptionally good spirits. Slughorn wishes to take a sample of the arachnid's venom and in the process breaks off the fang of the giant beast.
Rupert Grint (Ron Weasley) really shines in this installment. When Ron mistakenly "overdoses" on love potion hidden in pieces of candy, Grint pulls out all of the stops with his manner of speech, his gestures and facial expressions for the maximum comic effect.
Emma Watson displays all of the pain and suffering after falling in love with someone who doesn't have the same feelings in return. Ron has caught the eye of one of their Griffindor house mates. Ron's popularity grows after a stellar performance as the Griffindor's Keeper in Quiddich.
As with its predecessor Harry Potter and the Order of the Phoenix, Harry Potter and the Half-Blood Prince almost requires repeated viewings to fully appreciate all of the complexities and subtleties of the story and the character interactions. Not that that is a bad thing.