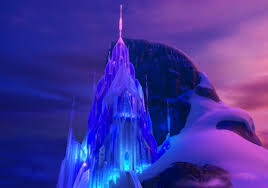 Frozen
is a fantastic movie for children of all ages. They don't make 'em like they used to... they make them better!
Frozen
is visually stunning. The characters are mostly human. They are all very complex. Their emotions are heart-felt. Best of all, the reindeer character Sven acts like a reindeer (unlike the fish in "Finding Nemo"). The deer doesn't talk but the meaning behind his gestures are unmistakeable.
Frozen is based upon "The Snow Queen" by Hans Christian Andersen. There are also parallels to the stage musical "Wicked". Young Elsa (Eva Bella) is a sorceress. She can create and manipulate snow and ice. Her powers are growing as she grows. One morning while playing with her younger sister Anna (Livvy Stubenrauch), Elsa gets carried away by the fun the two are having. Elsa accidentally hits Anna in the head with an icy blast.
Anna is saved by Pabbie (Ciarán Hinds), the leader of the trolls. Because Anna was struck in the head, Pabbie was able to save her. A strike to the heart is much more dangerous. Only an act of true love can save someone struck in the heart. The King, Queen and Pabbie decide the best course of action is to erase Anna's memory of her sister's powers. The King (Maurice LaMarche), although a loving and kind father, gives Elsa the wrong advice. He tells Elsa to hide her powers from Anna, to never speak of this incident. He preaches "control and conceal".
Elsa's response is to barricade herself in her room cutting off all contact with Anna. To protect the people of Arendelle, the King locks the palace gates. When the King and Queen are lost at sea during a storm, Anna and Elsa are on their own. It is a very lonely childhood for the two orphans. The song Anna sings is tender, touching and bitter-sweet. All Anna wants is for her sister to come out and play. She cannot understand why Elsa changed so suddenly.
The years pass by slowly. Before Elsa (Idina Menzel) realizes, the worst day of her life is dawning. Elsa is coming of age and she is about to face her coronation as Queen. She must open the doors to the castle and appear in public. Elsa is terrified!
Anna (Kristen Bell) is ecstatic! After long years locked in the castle, she is finaly free to venture outside, smell the fresh air and meet all the people in the kingdom. Before Elsa can be crowned, young Anna meets, falls in love, and plans to marry the young Price Kristoff (Jonathan Groff). Elsa is furious with her younger sister. Her rage builds until her powers over take her. Suddenly, the castle is buried under ice and snow. Elsa flees the kingdom in a mad panic before she can do any further damage and possibly harm someone.