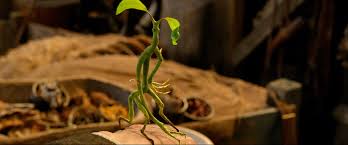 Fantastic Beasts and Where to Find Them
is a highly entertaining film. Much like "Harry Potter and the Sorcerer's Stone", this film is more of an introduction to characters and events that long preceded the arrival of Harry Potter.
In 1926, Newt Scamander (Eddie Redmayne) is travelling to New York City. Inside his magical suitcase is a vast array of fantastic beasts or magical creatures. Transporting creatures internationally is a crime in the eyes of the Ministry of Magic. Scamander needs to be very careful.
Scamander is a different kind of wizard. He is a man ahead of his time. He travels the globe looking for magical creatures that he rescues. His suitcase is a travelling animal sanctuary. Scamander knows these rare animals need to be protected.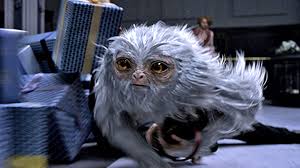 Unfortunately, a niffler, a creature who is attracted to and hordes shiny objects, escapes from Scamander's case and runs into a bank. With all of the coins in the bank, the niffler is in heaven. Scamander is in serious trouble.
Life gets more complicated for Scamander when he meets Jacob Kowalski (Dan Fogler), who is in the bank seeking a loan. Scamander runs off seeking the niffler leaving an occamy egg behind. Kowalski picks up the egg, which begins hatching.
After a series of misadventures in the bank, Scamander and Kowalski apparate to safety, or so Newt thinks. Many an early Hollywood comedy began with a switched suitcase. Kowalski steals Scamander's case leaving him with pastry samples.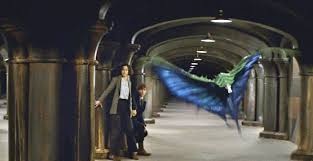 Thus the story and tone of Fantastic Beasts and Where to Find Them is set. The film is a light comedy that slowly darkens as the film progresses. Evil wizard Gellert Grindelwald is loose somewhere on the planet. There is no telling where he will strike next. There is an unseen force running through the slums of New York destroying buildings. Auror Percival Graves (Colin Farrell) is unable to capture, let alone identify the force. Mary Lou Barebone (Samantha Morton), a fundamentalist and leader of the Second Salemers, stands on street corners with her adopted children spreading hateful messages about the dangers of magical folk. Fortunately for the wizarding world, most New Yorkers see Barebone as a crack pot.
Fantastic Beasts and Where to Find Them is loaded with humor. The bank sequence, where Scamander desperately tries to capture the niffler without revealing magic to the muggles in the bank, is wickedly clever. Kowalski makes the mistake of opening Scamander's suitcase letting loose several magical beasts. Scamander chases the escaped niffler into a jewelry shop. The niffler is now in 7th heaven. Just as Scamander catches the niffler, the police arrive leaving Scamander holding the bag.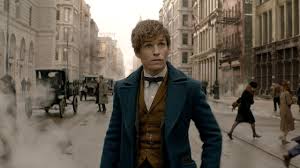 Eddie Redmayne is wonderful as Newt Scamander. Scamander is a cross between Hagrid and Doctor Who. He has a unique world view. Wizards, muggles, animals and fantastic beasts all need to be understood and respected. Scamander is a simpleton who harbors no bias against any one or any thing. His views make him an outcast in the wizard world. Not a problem. Scamander prefers to be alone to care for his magical creatures unimpeded.
Dan Fogler is every bit as wonderful portraying Kowalski. Kowalski has a dream of opening a bakery. Like many men of the early 20th century, Kowalski has no capital to secure a loan. His dream is stuck in the mud. Kowalski is not a loser. Life just treats him like one.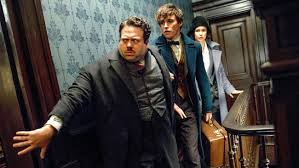 Meeting Scamander is the best thing that ever happened to Kowalski. Like the companions of Doctor Who, Scamander exposes Kowalski to a whole new world with endless possibilities filled with magic. Unfortunately, Kowalski is living on "borrowed" time. Scamander knows that he will, at some point, need to obliviate all of Kowalski's memories of the wizards and the magical creatures. Kowalski has no idea what is in store for him. He merrily joins Scamander on his mission to recapture the lost creatures.
Through Scamander, Kowalski meets the love of his life, Queenie Goldstein (Alison Sudol), an expert legilimens. She can read minds. Queenie knows a muggle is smitten with her but doesn't mind. Queenie gradually falls for Kowalski but their relationship is doomed as he is a muggle.
Providing a touch of a love interest for Scamander is Porpentina "Tina" Goldstein (Katherine Waterston). Tina is an ex-Auror. She was demoted after a prior transgression. Waterston is likeable as Tina but the script doesn't really give her much to do except further the story. Tina has run-ins with Graves and Seraphina Picquery (Carmen Ejogo), president of Magical Congress of the United States of America, but that is about all the interest Tina generates. Unfortunate.
Colin Farrell is amazing as Percival Graves. Graves is a man who is immediately disliked. He is mysterious. Graves relishes the power that being an Auror has given him. Graves can act as he pleases under the guise of protecting the wizard world. He strikes a bargain with Credence Barebone (Ezra Miller) which Graves has no intention of upholding. Graves uses Credence to help him find an obscurial, a magical child who supresses their abilities. The obscurial is the dark force menacing New York. Why is Graves so secretive in his hunt for the dark force. Why is he working alone instead of with a whole force of Aurors? Graves has a secret and a secret agenda.
The only problem with Fantastic Beasts and Where to Find Them is the sometimes complicated and confusing story. The nature of the dark force provides most of the confusion. This force is introduced here. The explanation of its existence is a one-sentence recap from Scamander. The obscurial doesn't make sense until the film is over.
The most fantastic element of Fantastic Beasts and Where to Find Them is the story. A chance encounter of being in the wrong place at the wrong time results in Scamander and Kowalski being in the exact right place at the exact right time. Instead of removing Kowalski's memories, Scamander broadens his mind. Scamander invites Kowalski into his world by inviting Kowalski into his suitcase. The scene inside the suitcase gives the film its very appropriate name. This world is populated with the most amazing assortment of creatures unknown to man. Large beasts charge Kowalski like a herd of buffalo only to stop at his feet. They just want to play. Fantastic!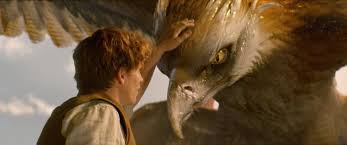 As usual, the digital special effects are stunning. The creatures are real as is the havoc they cause when let loose in the "real" world. Buildings collapse. Streets are torn up as the obscurial wreaks destruction. All of this is visually believable. Fantastic beasts actually exist, at least until the film ends.
Fantastic Beasts and Where to Find Them ends with a most touching scene. Kowalski has had his memories erased. Scamander has scraped up enough cash for Kowalski to open his bakery shop. Not all of Kowalski's memories have been obliviated. He has turned the magical creatures he encountered into fantastic bakery items. His shop is a resounding success made even better when Queenie stops in his shop. Kowalski doesn't remember her, but he is once again smitten with her. With any luck, Kowalski will return in any sequels.