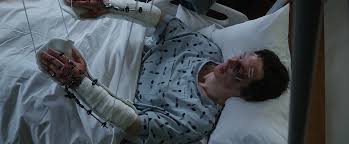 Doctor Stephen Strange (Benedict Cumberbatch) is a brilliant neurosurgeon. He is extremely arrogant. Strange is so good at his profession he is becoming bored. He only accepts patients who provide him with a serious challenge. Strange is no longer a doctor who treats the sick. He is a specialist's specialist.
Strange's arrogance catches up with him. Feeling indestructible, he speeds down a winding road while talking on his cell phone to find his next challenge. He wakes up in Intensive Care. His hands are held together by pins and wires. Strange may never have the use of his hands. Strange's life, as he new it, is over!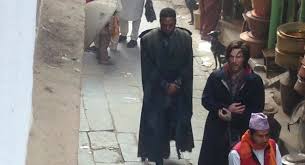 No amount of surgery will help. He falls into depression following one crack pot treatment after another until he meets Jonathan Pangborn (Benjamin Bratt). Pangborn, once paralyzed from the waist down, is now healthy, playing basketball. The secret to his miraculous recovery can be found in Kamar-Taj, Nepal.
What Strange finds in Nepal is stranger than anything imaginable: a group of mystics who harness magic to fight enemies from other dimensions and universes. The world has suddenly grown very large.
Strange begins to learn the mystical arts. He gladly takes to the teachings learning everything he can, including learning secrets he should have never uncovered. He is drawn into an ancient struggle.
This is the premise for the latest film in the Marvel Universe, Doctor Strange. Surprise, Doctor Strange is the actual name of the character. This is not his alter-ego.
Doctor Strange is, at times, difficult to follow. The film begins with Kaecilius (Mads Mikkelsen) stealing pages from an ancient book. The Ancient One (Tilda Swinton) pursues him but Kaecilius escapes.
For the uninitiated, this sequence is strange, very strange. Who are these super ninjas? What has Kaecilius stolen? How are they able to continue fighting while the world around them warps and wraps in on itself while the unaware humans go on with their droll, daily lives?
Doctor Strange is the origin story of Stephen Strange and how he becomes much more than merely Doctor Strange. Questions are answered but not everything is perfectly clear for anyone who is unfamiliar with the Marvel comic series.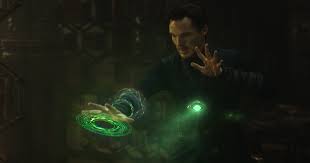 In a pivotal sequence, Strange, just a beginner, sneaks into the Restricted Section of the Library and finds the very book Kaecilius tore the pages from. Since Strange is such a brilliant man, he simply spins back time to a point in time where the pages still existed in the book. Strange is quite the quick study! Parts of the film are difficult to comprehend or believe. No one but Strange thinks to simply recreate the lost book pages.
Adding to the confusion, Strange turning back time begins affecting the world around him since he has not learned enough to localize the time shift. Somewhere buried in the story are the missing pages, what they are, and why they are important.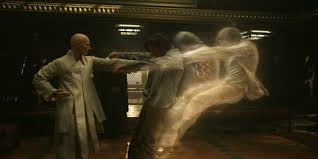 Highlighting the film are the hilarious moments of humor that, quite literally, pop out of nowhere. While engaged in his studies, Strange throws out one stupid pun after another in order to get a laugh, giggle or smile out of the temple's librarian, Wong, (Benedict Wong). While the audience laughs at Strange's jokes, Wong remains still, having no reaction, to wonderful effect.
Much like a magic wand in the Harry Potter films, some magical relics will "attach" themselves to a magician. The Cloak of Levitation, a magical cape, has bound itself to Strange. While Strange is walking down a hallway, the cape suddenly reaches up and scratches his nose.
When Strange is injured, he transports himself to the hospital where he worked and reconnects with Dr. Christine Palmer (Rachel McAdams). While she is treating Strange, he separates himself from his physical body to continue the fight with his attacker. Palmer tries to treat Strange's body while objects fly around the surgery, as she cannot see the two combatants.
Doctor Strange while highly entertaining, is, at times, uneven. The opening sequence is exciting but incomprehensible as to what is happening. Whereas an action sequence in the New York Sanctuary is fantastic. The action is amazing. Strange's cape finds different ways to help him in some truly imaginatively funny ways. The battle in New York is difficult as adversaries race around buildings as they fly around and spin upside down. Vertigo could be a problem for anyone wearing 3D glasses!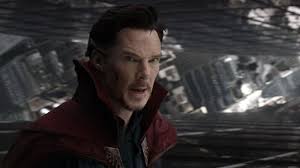 Doctor Strange is the perfect vehicle for Benedict Cumberbatch. He dominates the film. Every other actor takes a back seat. Cumberbatch is a great actor whose voice lends itself perfectly to Strange. He has a fast-paced delivery and a vocalization that give different meanings to what he says. He slings insults with the best of them. Due in large part to Cumberbatch, the ending sequence is a complete surprise. It is an amazing piece of screen writing and direction.
The rest of the cast is filled by accomplished actors yet no one really elevates the film like Cumberbatch. The only other memorable performance is Benedict Wong, who remains stone-faced until Strange's jokes finally get the better of him and Wong breaks down in fits of laughter.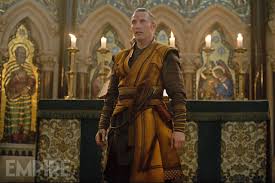 As the chief villain, Mads Mikkelsen is as threatening as his role of LeChiffre in "Casino Royale", which doesn't say much. Tilda Swinton and Chiwetel Ejiofor, as the chief mystics, are as emotional as Jedi Knights, which doesn't say much either. These great actors are wasted as they merely move the story along.
Most origin stories, in the world of comics turned into movies, are interesting and energetic. Too much time and energy is spent telling the background story. Subsequent films tend to be better, but not always. Doctor Strange may be one of those films that don't succeed. Time will tell.
If the post-credit scene is any indication, Doctor Strange is in good hands. Strange is meeting with Thor who is asking for Doctor Strange's help. As Strange is asking Thor what he is proposing, Thor quickly drains a very large glass tankard of beer. As Thor replies to Strange, the good doctor magically refills Thor's glass.
Doctor Strange will return which is a good thing. This movie is much funnier than other Marvel films.