Ben Affleck is terrible as Matt Murdock, aka Daredevil. This is the only thing hampering this movie. The script writing is also lacking for a comic-book adaptation. Daredevil is an interesting character, flawed yet instilled with a sense of justice. This should have been a better movie. Don't get me wrong, I enjoyed this, especially the two music tracks from Evanescence. But I was left lacking. Too bad!
The movie starts wonderfully. The opening credits are beautifully depicted, a cityscape where the lights in the building window disappear into Braille to introduce the cast and the movie title. This is followed up by a long tracking shot up the side of a church to show Daredevil grasping the cross on top. Very well done. This shows that the main character is blind and he is severely injured.
As Daredevil lies dying, he reminisces on his life. As he says, "At the moment of death, life passes before your eyes. That's true, even for a blind man." It's a great setup for a movie.
Unfortunately, what follows is amazingly boring. Boring is a strong word as the movie is not that boring. It is entertaining, but I was looking for so much more. As I've complained about in previous review of comic book adaptations, what is really missing here is humor, the only source comes from Bullseye, nastily depicted by Colin Farrell.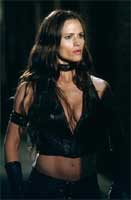 The movie is really about how Daredevil came into existence. The flashback scenes of the young Matt Murdock and his drunken father are very good, very well done. They both find redemption before tragedy tears them apart. Young Matt Murdock discovers his father has fallen from grace and is reduced to collecting pay-off money for Fallon, the local crime boss. When Matt discovers his father's secret, he runs away, right into the path of an illegal chemical disposal operation. A freak chemical spill leaves Matt blind, but his other senses are miraculously enhanced. His sense of sound gives off a 'radar' sense where the blind boy can actually see the world around him. Young Matt hones his skills so he is no longer a victim of his surroundings.
Somehow, the movie changes for the worse when we see the current Murdock. Ben Affleck just is not a very good actor. He is not good enough to show the conflicts between lawyer Murdock seeking justice through the legal system, and Daredevil, finding justice as the caped vigilante.
Not even the rest of the supporting cast can save this. Jennifer Garner is drop-dead gorgeous as Elektra. She is more of a tragic character than Daredevil and the only source of real interest here. Her mother was killed when she was young. Now, it is just her and her father, who unsuccessfully tries to separate himself from the influence of the evil boss, Kingpin. Elektra endures further tragedy as he father is killed before her eyes, much like her mother.
Michael Clark Duncan is not given much to do as the sadistic crime lord, Kingpin. Only Colin Farrell truly rises above the script to put in a deliciously evil performance. I would like to see more of Bullseye! Joe Pantoliano comes a close second as the reporter trying to find out the secret behind the masked Daredevil.
Daredevil is a character torn between his life as a lawyer seeking justice and the masked man seeking justice. Unfortunately, the movie never really rises to the challenge. Its enjoyable, but it's not up to the level of other comic books turned into movie. It's still worth a look.
The best part of Daredevil is the aside with Bullseye during the closing credits. Hysterically funny, although most people would have left the theater by then.