Thanks to marketing, we in the audience know more about Jason Bourne then he does when this movie starts. Bourne is onboard an unfamiliar ship in the Mediterranean. He has no idea who or what he is. What is troubling him most is that he can read charts, operate weapons and a whole slew of other "hidden" talents. But what are the purposes for these skills?
Matt Damon is O. K. in the title role, more like Kevin Costner at his best, a man out of his element. Damon does not carry this movie. All of the other actors make this movie interesting.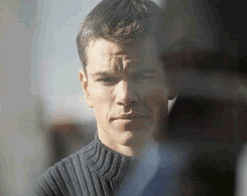 This is a "cat and mouse" thriller as Bourne unknowingly pops up on the radar screen of his employers, the C.I.A. They want to know why he has suddenly reappeared after a 2-week absence form his last mission. That mission failed and they want to know why. They decide it is better for everyone concerned, especially the press and Bourne's target, to eliminate Bourne.
Bourne is unsettled by the fact that he can subdue police officers without thinking, he has a safety deposit box containing several passports, under different identities, a gun, and large amounts of money in several country's denominations. At every turn in his journey of discovery, he is set upon by killers and law enforcement. His skills are the only thing keeping him a free man.
Bourne finds that the only person he can trust is Maria, a girl he accidentally meets and takes her along for the "ride". He pays her very well so she can't complain, until her name ends up on a police poster. Maria is drawn to Bourne out of necessity. She stays with him for the same reason and also the beginnings of a possible romance with this kind, yet withdrawn and stern young man. Maria is afraid of Bourne, but throughout there adventures, she comes to realize, as Bourne does, that he is the only man she can trust.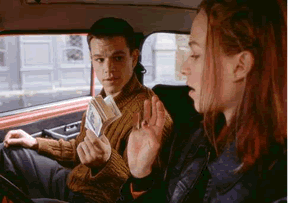 The action scenes are quite good, mixing the right amount of fight scenes and car chases. These are choreographed so that the audience can follow every move. A plus in my book! The locations change rather quickly, but they follow along with the James Bond formula of many exotic locations, following Bourne running around France.
The supporting cast is excellent: Franka Potente, Chris Cooper and Brian Cox. These actors really make the movie interesting. Damon goes through the motions. Since Bourne doesn't know who he is, Damon is not pressed upon to do any real acting. He is, at best, passable. There is nothing wrong with Damon's performance, it just seems robotic. Maybe that is the point made in Robert Ludlum's novel. Having never read his work, I don't know.
Director Doug Liman has crafted a very good, well-paced thriller with zero down-time. The movie moves along a break-neck speed, but is written well enough that the audience doesn't need to know every fine detail to follow the complex plot. The screen play is written well enough for the audience to follow along.
This is a very good thriller! Just what the summer movie schedule calls for.