Roger Moore, previously known for portraying Simon Templar aka "The Saint", takes over the mantle of James Bond 007. Moore easily slips into the role as if he had played Bond for years. Moore isn't here to rock the boat. He is content with letting the formula alone.
In Live and Let Die, MI6 is in trouble. Two of their agents have been murdered, one in New Orleans and one in the Caribbean nation of San Monique. Bond's mission is to pick up the trail and discover what the agents have found and to stop it.
There is no megalomaniac here. No plot for world domination. No spectacular finale. Live and Let Die is a simple case of drug smuggling. Bond had been involved in previous cases of smuggling, but they led to more devious designs. Not so for Bond's eighth adventure. The film is thrilling, exciting, has exotic locations, beautiful women, and plenty of action. There is absolutely nothing surprising in the film.
Roger Moore continues Bond's missions. He is an accomplished actor who brings charm, sophistocation and a sly tongue. Moore's Bond has a quip for every occasion.
Director Guy Hamilton and screenwriter Tom Mankiewicz go through the motions keeping the tone light. Hamilton keeps up the pace so no one will snooze through the film.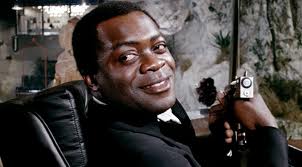 Yaphet Kotto plays dual roles as drug kingpin Mr. Big and Ambassador Dr. Kananga of San Monique. There is nothing sinister with Mr. Big. He is a simple heroin dealer who wants to expand into the United States. This isn't a major concern of MI6 except that they lost two agents who were helping the Americans. Obviously, the FBI and CIA aren't up to the task.
No wonder. David Hedison takes on the role of CIA agent Felix Leiter. Hedison has nothing to do or add to the role. Leiter is on hand as Bond's liasan with the authorities. Needless to say, the longer Bond is involved, the more time Leiter spends on the phone trying to smooth over Bond's destructive qualities.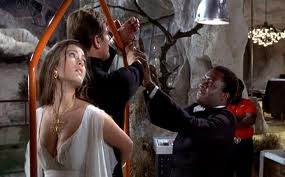 Newcomer and pleasantly surprising is Jane Seymour as Solitaire. She is a priestess who has the ability to read tarot cards and foretell the future. Solitaire is shy, sheltered, dominated by Mr. Big. Seymour is exotically beautiful. Her inexperience as an actor helps in this instance as Solitaire is also inexperienced. Solitaire is a virgin.
In fact, Solitaire's virginity is the only shocking element in Live and Let Die. James Bond seduces the young woman. This was foretold in the cards, was it not? He takes her virginity and her mystical powers with all the care and gentleness as a man who only thinks about himself. Lucky for Bond that he is a good man in bed. Solitaire is not worried about Mr. Big. All she wants is more of lesson #3. Great screen writing here... turning the pivotal moment of a young woman losing her virginity and making a joke of the event.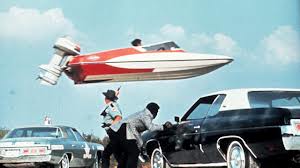 Guy Hamilton also plays the action scenes for laughs. There is rampant destruction on board a double-decker bus. A chase scene with Bond hijacking a small airplane with a student pilot at the controls demonstrates what poor marksmen bad guys really are. Last but not least is the extended speed boat chase through the bayous of Louisianna. For some reason, Mankiewicz dreamed up the character of red-neck Sheriff Pepper (Clifton Webb). Webb is worse than scraping finger nails on a chalk board. The film drops several notches whenever he is on the screen.
It is a new era for James Bond 007. The super agent is now becoming the comic. Roger Moore makes a good James Bond. Please future screenwriters, give him a mission he can sink his teeth into. Bond will be back!