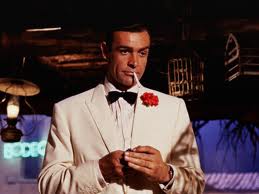 James Bond Is Back!! Bigger, Better, Best!!
Goldfinger
is the third installment in the James Bond franchise and one of, if not, the The dialog alone is enough to raise this film to the pantheon of motion picture lore. Add to the mix spectacular action sequences, a nasty but cool and sophistocated villain, 2 wonderful henchmen (1 henchman, 1 henchwoman), a bevy of Bond girls and an Aston Martin DB5...What's not to like?
James Bond's (Sean Connery) mission is a simple case of international gold smuggling. The prime suspect is Auric Goldfinger (Gert Frobe), a metalurgist with small smelting operations around the world and a modest gold stock. Bond follows the trail to Geneva, Switzerland and promptly discovers how Goldfinger smuggles gold out of England. But before Bond can make his report, his mission is complicated by Tilly Masterson (Tania Mallet) out to avenge the death of her sister. By somewhat of good luck, Bond is captured and begins to discover Auric Goldfinger's true plan. The plot thickens as does the suspense and intrigue.
Sean Connery reprises the role of James Bond and expands on how he portrays England's best "00" agent. Connery is cool, suave, sexy, sophistocated, a womanizer and indestructible. Bond doesn't just fight his way out of a tough spot, he uses cunning, keeping his adversaries off guard. Connery's mannerisms and facial expressions are as much a double-en-tendre as anything spoken<./p>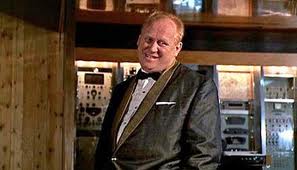 Whereas the previous film From Russia With Love had a whole slew of bad guys, there really wasn't one main villain. This is remedied by the fantastic performance of Gert Frobe. He portrays Auric Goldfinger with the same sophistocation, cool and charm as Connery but adds an air of supreme confidence and an elation as his as his plan comes together. Bond has just learned all of Goldfinger's master plan. Is Goldfinger worried? No. He calmy asks Bond if his mint julip is too tart. Wonderful.
Another element to Goldfinger, never duplicated, is the number of times Bond directly interacts with Goldfinger allowing both Connery and Frobe to shine. There is the card game in Miami, the golf game in Scotland, Bond's interrogation in Switzerland, Bond matching wits with Goldfinger at his stud farm in Kentucky, Goldfinger's attack on Fort Knox, and finally Goldfinger's revenge on Bond that ends the film. Each sequence is memorable due to the calibre of acting and the marvelous screenplay that presents each actor with excellent dialog. Bond asks, "Do you expect me to talk?" No Mr. Bond", Goldfinger replies with glee. "I expect you to die!"/p>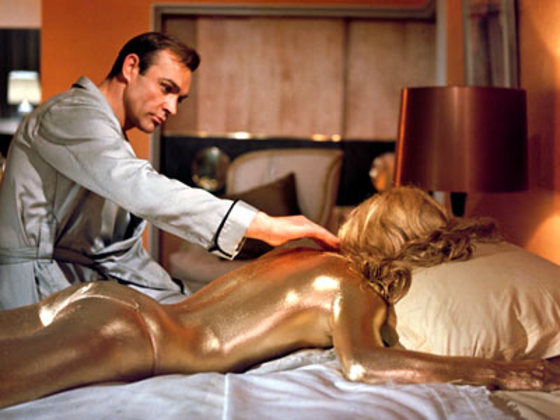 Bond girl Shirley Eaton as Jill Masterson sets the bar high for any following actress. Eaton is kittenesquely playful and very sexy. Every line she recites will get any normal man worked up. You won't find a more bleach-blonde babe than Eaton. Ah, but Goldfinger also presents the famous Pussy Galore played by Honor Blackman. "My name is Pussy Galore." Bond replies, "I must be dreaming." Bond is not alone in that regard. Blackman plays Pussy with an intense individuality. She clearly "wears the pants". She is dominant and intent on succeeding in a Man's world, until a single kiss from 007 changes her allegiance.
Bond also tackles an unstoppable brick wall of a thug appropriately named Oddjob played by Harold Sakata. Sakata gets to grunt and groan the entire movie but his build is solid muscle. He can handle a bag of golf clubs as if they were made of plastic. Oddjob also has his own gadget, a bowler hat with a razor built into the brim, good for slicing off the head of a statue or the head of anyone who crosses Goldfinger the wrong way.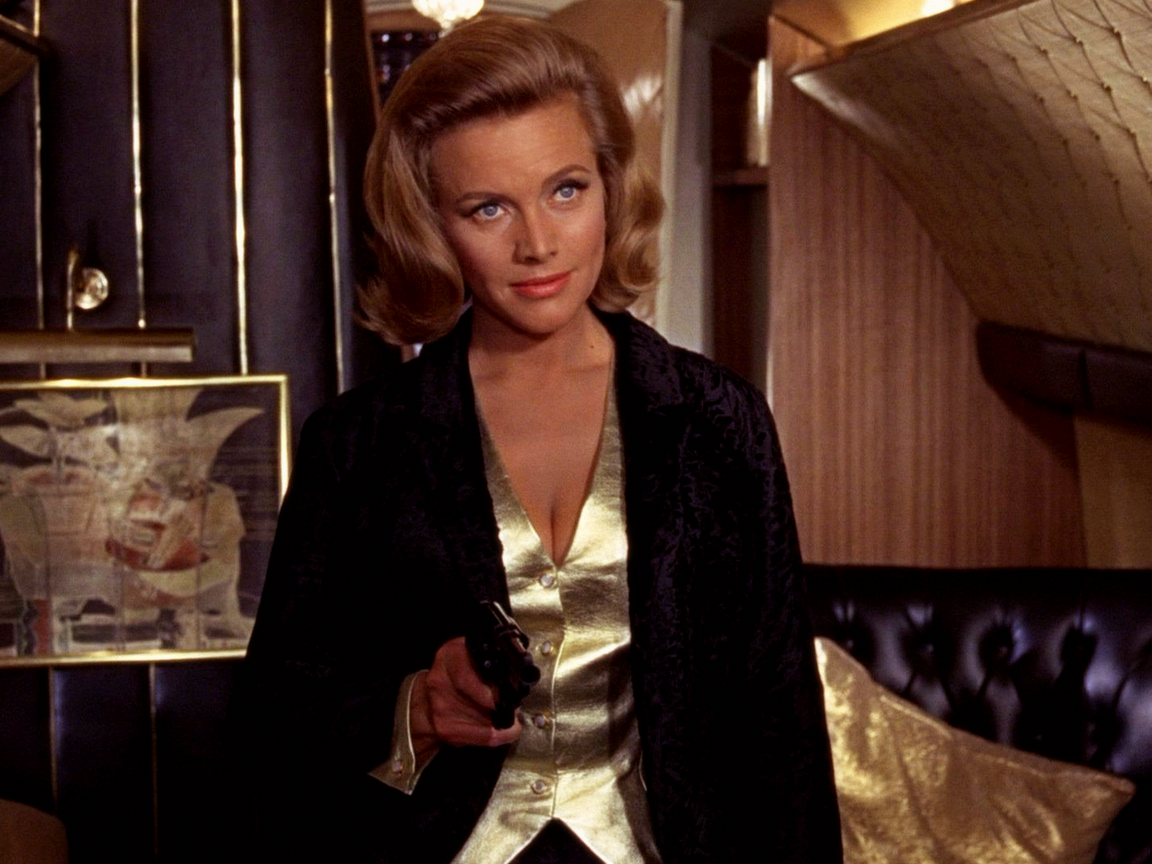 Director Guy Hamilton got the job of a lifetime helming Goldfinger. He unobtrusively sets up his camera and lets the actors perform. But he is also very good directing the numerous action sequences.
Much of the credit for the success of Goldfinger goes to screenwriters Richard Maibaum & Paul Dehn. The dialog is witty, quick and sexy double meanings. For instance, Bond is lying in Bed with Jill Masterson when a radio announcer reads "Today, the President was completely satisfied..." Bond turns off the radio and replies, "He's not the only one." They also bring the film full circle. Bond escapes death in the precredit sequence by electrocuting his foe. Bond dispatches of Oddjob in a similar fashion in the final confrontation.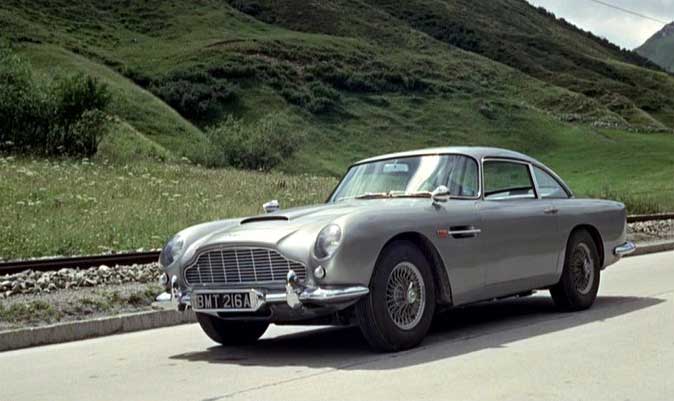 Maibaum and Dehn add elements to the Bond lexicon that will be immitated but never surpassed. First and foremost is James Bond's new company car: Aston Martin DB5 with a few optional extras installed. The car has a tracking device, front facing machine guns, oil slick and smoke screen in the rear, tire shredders that extend out of the car's axles, and the ejector seat. An amazed Bond comments to Q (Desmond LLewelyn), "Ejector seat! You must be joking". "I never joke about my work 007." It certainly helps that the DB5 is a fantastic looking sports car. As Goldfinger incredulously asks Bond, "Where did you get that amazing car?" Ah, to drive down the highway and blow away the slowpoke in front of you is every man's fantasy. Then there is the atomic device ticking down to disaster that is diactivated with the timer displaying "007" seconds remaining.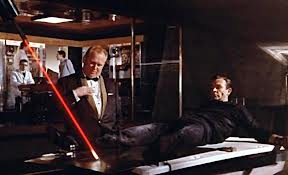 The film, literally, begins with a bang. Then comes best theme song sung by Shirley Bassey. The song composed by John Barry and Leslie Briccuse with lyrics by Anthony Newley are stellar. This song more than sets up the rest of the movie and the main character. Bassey belts out the song and elevates it onto the list of best movie songs of all time!
Goldfinger sets the bar extremely high for any succeeding film in the series. Every element of the film succeeds wonderfully. Have no fear, James Bond will return in Thunderball!
(Personal note: When James Bond drops the gold bar at Goldfinger's feet during the golf match, my first thought was: I would hate to be Bond's caddy. When Bond slugs Oddjob with a gold bar, Oddjob merely smiles. I was expecting Bond to paraphrase Maxwell Smart saying, "I hope I wasn't out of line with that crack about you being tiny."