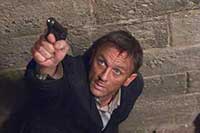 Quantum of Solace
, the 22nd installment in the long-running James Bond franchise, may be one of the best written movies in the series. It is also one of the worst executed films. The screenplay is too subtle in its goals. The "Bourne"-style editing technique renders the action scenes impossible to follow. The technique has its purpose. It serves absolutely no purpose in a James Bond film.
Quantum of Solace begins approximately 20 minutes after the end of Casino Royale. James Bond (Craig) has apprehended Mr. White (Christensen). Bond is trying to get Mr. White so a MI6 safehouse for interrogation. But White's organization is quickly onto Bond's designs and tries to stop him.
A chase scene involving Bond and his new Aston Martin and a car of thugs. Compare this scene with the Aston Martin chase in GoldenEye and one quickly sees the problem with this movie. The GoldenEye chase is a seductive, playful cat-chasing-mouse sequence that is funny, intense, suspenseful, exciting and easy for the audience to follow the scene play out. In Quantum of Solace, the opening chase scene and every following action sequence is a hopeless mess of disjointed editing.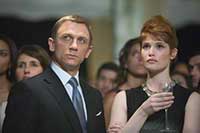 Early on, M (Dench) tells Bond, "It would be a pretty cold bastard who didn't seek revenge for the death of a loved one." Bond replies, "I'm motivated by my duty." This exchange is revisited at the very end of the film. Clever bit of screenwriting only if the audience is paying full attention. Unfortunately, the audience is already lost.
Another quick exchange follows a MI6 analyst tracking a money trail with money used in the previous affair with Le Chiffre. 10 points to anyone who can follow this. Bond finds himself in Haiti. Another 10 points to anyone who knows who is Bond's target. The screenwriting on Quantum of Solace moves as frantically as the action. Multiple viewings are needed to follow the story. The plot is way too complicated for its own good.
Paralleling Bond's exploits are those of Camille (Kurylenko). She is on a mission of revenge. Her family was brutally assaulted and murdered while the young girl watched. Her home was burned to the ground with her inside. Her father was a direct threat to the ambitions of General Mendrano (Cosio). Bond intervenes and ruins Camille's one chance for vengence. She had been plotting her revenge for most of her life. Bond's chivalry is not appreciated nor wanted.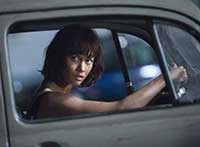 Craig and Kurylenko make an interesting pair. Their characters have suffered tragedies in their past. They are both out to make ammends for past wrongs. Their relationship is biiter-sweet and both actors are up to the task. Their relationship and scenes together are about the only saving factor in the film.
Gemma Arterton as MI6 psych evaluator Strawberry Fields (Oh come on, another lame female character name to compete with "Pussy Galore") brings nothing to her role. Jeffrey Wright sleep walks through his role as C.I.A. Agent Felix Leiter. Any burgeoning friendship between Bond and Leiter is drowned in Wright's droning, monotone readings. Mathieu Amalric as the main villain Dominic Greene is wimpy on his own. Amalric is appropriately sinister but his character needs the backing of the powerful Quantum crime syndicate to be threatening.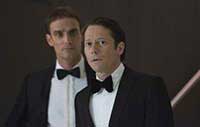 Adding insult to injury, the theme song, "Another Way to Die" by Jack White and Alicia Keys, hits an "All Time Low" in Bond theme songs. The rest of the soundtrack by David Arnold is quite good. He has proven an excellent choice to succeed long-time Bond composer John Barry.
Casino Royale was a great story to reboot the Bond franchise. That film quite closely followed Ian Fleming's original Bond novel. As a follow-up, Quantum of Solace is a failure.