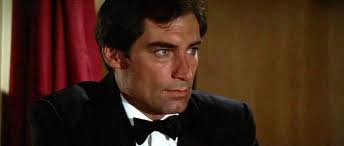 In the sixteenth James Bond film
License to Kill
, forget everything you have come to know and expect about James Bond 007. All conventions are thrown out the window. James Bond is deadly, dangerous, serious, and out for vengeance. He doesn't care who gets hurt! No one will get in his way!
After the successful capture of drug king-pin Franz Sanchez (Robert Davi) by DEA Agent Felix Leiter (David Hedison) and James Bond (Timothy Dalton), everything goes horribly wrong. Sanchez is freed from custody due to his infamous two-million dollar bribe, a standing offer for anyone who springs him.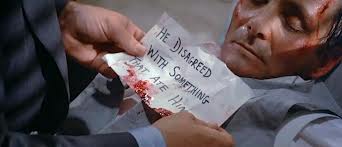 Sanchez kidnaps Leiter on his wedding night, before his marriage can be consumated. This is the exact scenario James Bond underwent in On Her Majesty's Secret Service. Leiter is fed to a shark where he is horribly mutilated. His bride is dead and he is in intensive care. When the DEA and CIA are unable to legally bring Sanchez to justice, James Bond takes avenging his friend as his personal mission.
James Bond's single-mindedness-of-purpose turns him into a screwup. He is jeopardizing several ongoing missions of his own and other governments. M expected Bond to be on a mission in Istanbul. Hong Kong narcotics have been after Sanchez for years. The CIA is in negotiations with Heller (Don Stroud) to recover Stinger missles that Sanchez has obtained. Bond ruins any chance of these missions succeeding after his failed attempt to kill Sanchez. Bond is a threat who must be stopped. When Bond refuses M's direct order to "leave things to the Americans", M has no choice but to revoke 007's License to Kill. James Bond has just been fired from MI6. No one, not even James Bond, could have seen this coming.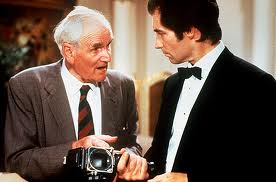 License to Kill is not your typical James Bond film. Aside from the precredit sequence, everything that follows comes as a complete surprise. Some elements are shocking. (That is not a pun even though one man is electrocuted) Some elements are horrific. Danger lurks around every corner. In fact, there are very few happy moments in the film.
License to Kill is an extremely dark film for the James Bond franchise. This is also the most personal look at the character of James Bond. His vengeance clouds his judgement. He is bent on achieving his goals alone, despite the unwanted help of others. In doing so, screenwriters Richard Maibaum and Michael G. Wilson have come the closest to Ian Fleming's idea of James Bond. Bond is a loner who doesn't make friends easily. He is fiercely loyal to those few he calls friends. Sanchez attack on Leiter makes things personal for Bond, even though Sanchez claims this is "only business". Once James Bond sets his sights on a target, his pursuit is relentless. This will only end with Sanchez' death... or Bond's death. There will be no middle ground.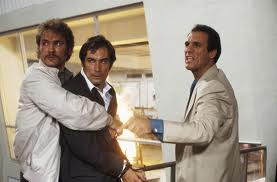 Bond fans who grew up on the light comedy of the Roger Moore films will be in for a major shock. No longer written for Moore but customized to Dalton's style, there is almost no humor in Licence to Kill. What few jokes are in the film are given to villain Sanchez played wonderfully by the talented Robert Davi. Sanchez is every bit as charming, sophistocated and ruthless as Bond. They are the same face of the same coin. Loyalty is tantamount to both characters.
Anthony Zerbe is also great as Milton Krest. There is great dialogue between Sanchez and Krest. The screenwriters pull off a hilarious joke on the Bond series. Earlier in the film, Bond raids Krests yacht looking to kill Sanchez. Bond ends up ruining a drug deal and stealing Sanchez money. Milton Krest is trying to explain what happened and his explanation keeps getting more and more fantastic. Sanchez asks, "...and then, he flew away... like a little bird?" Krest stutteringly replies, "Uh, well, yes. He threw the pilots from the plane and flew away." Sanchez and one of his goons just look at each other in disbelief.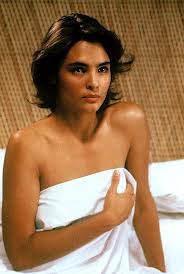 Of the two female leads, Talisa Soto is drop-dead gorgeous. As Lupe, she is sexy yet haunted by being in a no-win situation as Sanchez's mistress. Bond provides her first real chance at freedom. She seduces and aids Bond in the hopes that he can kill Sanchez. Carey Lowell plays CIA informant Pam Bouvier. Bouvier is an ex-helicopter pilot operating out of South America. Lowell doesn't have the talent to take on the persona of a firecely independent woman who survives in a man's world.
The supporting cast is excellent. Leading the list is Benicio Del Toro as Sanchez enforcer Dario. Del Toro looks and acts mean. Dario is a nasty man who enjoys killing. He gets what's coming to him big time. Don Stroud as Heller is cool and collected and loyal, right up to the point where he looks out for his own best interests. When Bond wreaks havoc, Heller has no choice but to accept the CIA's offer of a full pardon.
Everett McGill is excellent as CIA agent Killifer. He is the last man on the planet any one would suspect of double-crossing his government. $2 million is a lot of dough. Bond makes equally sure Killifer "pays the piper" for helping Sanchez escape. David Hedison returns as Felix Leiter. Hedison starred in Moore's first film Live and Let Die. He was probably chosen because he was the best actor who played Leiter. There is immediate chemistry between Hedison and Dalton. They come off as long-time friends. There is a poignant moment at the end of the film as Bond and Leiter try to make light conversation. Neither one is comfortable bringing up the recent events. The phone conversation ends with a slight pregnant pause. Very well done.
John Glen has become a master at filming and editing action sequences. The opening sequence shows exactly who Franz Sanchez is and how ruthless he is towards anyone who crosses him. The scene ends in great Bond fashion as he ties a tow cable to the tail of Sanchez's plane.
Bond sneaks aboard Milton Krest's yacht without any backup or any clear idea of escape. The guy must be insane! When Bond is trapped underwater, with his air hose slashed, and no swim fins, it is evident, for the first time in a Bond film, James Bond will die a horrific death. There is no way out. Bond does escape, not through some goofy gadget from Q but by sheer ingenuity.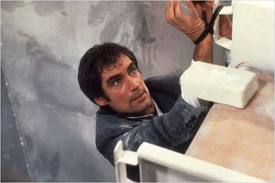 During Bond's assault on Sanchez drug manufacturing plant, the question in the forefront of everyone's mind is: what in the world is this guy thinking? Bond starts destroying everything in his path. The destruction does not stop until Sanchez is dead. Bond makes sure Sanchez has plenty of company in hell. He kills everyone who tries to stop him. No one knows this Bond. This Bond will not stop. Not ever!
Licence to Kill is not for everyone. It should be! James Bond fans who grew up with the light comedy of the Roger Moore films will think the producers went off the deep end into madness. Long-suffering Ian Fleming fans hoping for the real James Bond to be depicted on screen will be amazed. Timothy Dalton gets the serious side of Bond perfectly. James Bond's missions are not funny, or cute. They are deadly and dangerous. One misstep and Bond is dead. Dalton conveys this vulnerability with every scene. Bond succeeds with the CIA and Hong Kong narcotics problem in one fell swoop. While others try to legally take down Sanchez, only Bond knows there is only one way to deal with Sanchez. Sanchez must be killed whether Bond has a licence or not.
James Bond will return. With Timothy Dalton as Bond, the producers and screenwriters can take the James Bond character to new levels, new challenges... the sky is the limit!!!