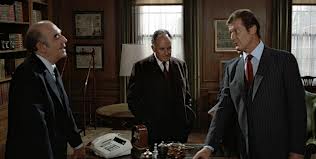 Like its predecessor,
Octopussy
is one of the better Roger Moore James Bond outings when it is firmly grounded in reality. A few bits hurt this film. Overall, it has some surprises and some really fantastic stunts including the finale.
A "00" agent is murdered. In his possession is a rare Faberge egg, a masterpiece in jewelry crafted for the royal family before Communism overthrew the Czars of Russia. 007 is called in to investigate. The problem is that the egg is a fake. The questions for 007 to answer are who and why would someone fabricate a Faberge egg that should be locked up in the Soviet Union?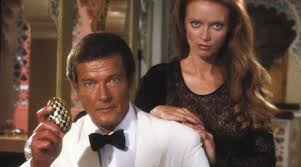 The trail takes Bond to India where the secretive Octopussy (Maude Adams) is recruiting homeless, downtrodden women. On the surface, Octopussy runs a lucrative circus. Under the facade is an intricate smuggling operation. Octopussy and her partner Kamal Khan (Louis Jordan) have been hired by Russian General Orloff (Steven Berkoff) to smuggle rare Russian jewelry from behind the Iron Curtain and into the West.
Double-crosses abound. Allegiances change! 007 discovers a much darker, more devious, more deadly plan is underway. Bond's list of allies is slim to none, at best. 007 is on his own for his thirteenth mission.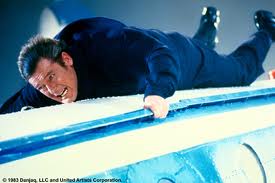 John Glen returns as director and shows he is a master craftsman creating the action sequences. Bond's jet is shot at by a ground-to-air missile. Bond barely escapes! Not through luck or one of Q's gadgets, but by ingenuity. In another scene, Bond leaps onto the tail of an airplane just before it takes off. He is trapped... outside the aircraft... without a parachute! An extended chase sequence involves a Mercedes, a train and an Audi. All of these scenes are heart-stoppers!
New to the Bond franchise is Glen's technique of crafting continuous, extended sequences. The most suspenseful is Bond captured and taken to Kamal Khan's Monsoon Palace. The sequence begins with a rather uncomfortable dinner, Bond escapes his room and climbs around the palace trying desperately to avoid detection. He overhears some, but not all of the plot between Orloff and Khan. Finally, Bond must make a hasty retreat from Khan who is beating the bushes hunting Bond.
The two female lead actors, Maude Adams and Kristina Wayborn, do not help the movie with their presence. Adams returns to the Bond franchise with a wooden, deadpan reading of Octopussy. Octopussy doesn't get excited, mad, angry, joyful, erotic, or any other emotion. Wayborn is very attractive but something in her delivery appears as if another actress was overdubbing Wayborn's lines. This becomes distracting after she appears in several scenes.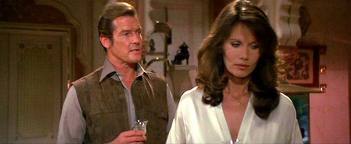 The highlight of the film is the verbal sparring between Moore and Berkoff. Bond has just discovered Orloff's plan to detonate a nuclear weapon on a U.S. base in West Germany. Bond asks Orloff what he expects will happen when the U.S. retaliates. Bond, and the audience's jaw drops when Orloff calmly replies, "Against whom?" Roger Moore gets everything right as the reality of Orloff's plan hits home.
Also joining the James Bond franchise is actor Robert Brown. Brown takes over the role of M, head of MI6. Brown goes back to Iam Fleming in his reading of M. He is gruff, stern and doesn't take any of 007's frivolity. Brown is a welcome addition as the writers turned the late, great Bernard Lee into the butt of Bond's jokes... not 007's boss!
Roger Moore is very good portraying James Bond, that is, whenever the producers and screenwriters give him the opportunity to act. Unfortunately, they also put some really stuped elements into Moore's Bond films. In Octopussy, we have a water craft disguised as a crocodile; Bond telling a tiger to "Sit"; Bond swinging from a vine screaming like Tarzan; Bond dressing up as a circus clown... just to name a few.
Two James Bond films in a row have been very good. Remove the stupid bits and these two films would have made the list of the best James Bond films. Octopussy is one of Moore's better outings. Unfortunately, all of the stellar action sequences and Moore's and Berkoff's performances are marred by stupidity. Enough with the jokes already! They do not help!